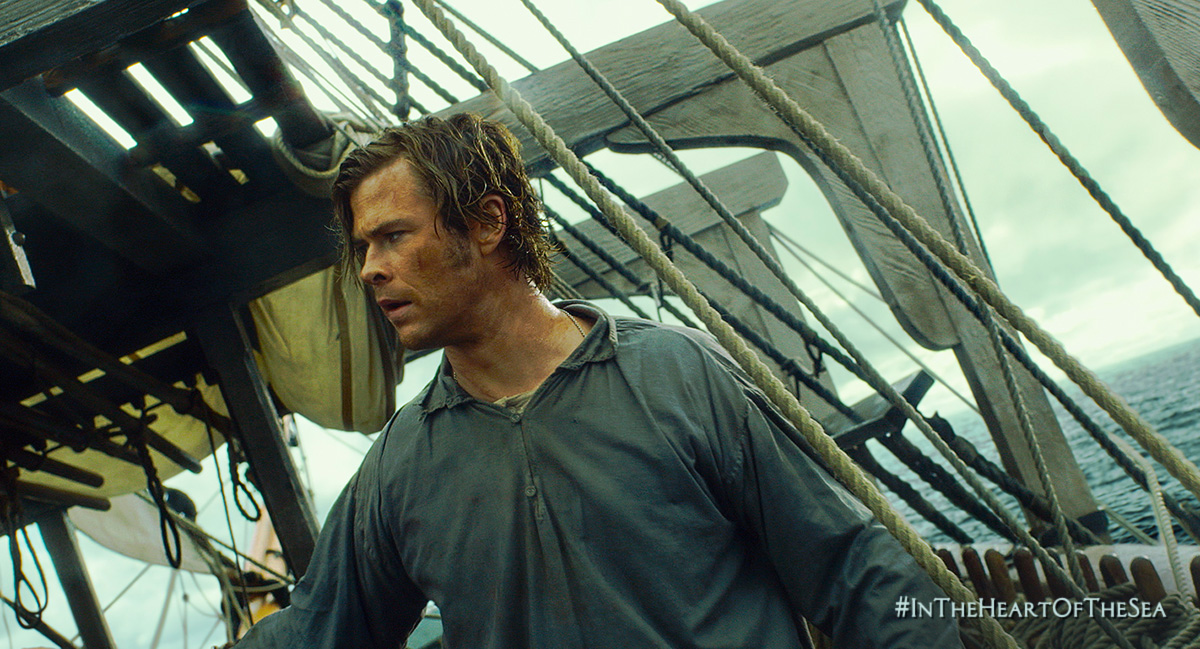 Oscar-winning director Ron Howard brings to life on the big screen the incredible and epic story of a colossal sperm whale and its attack on the New England whaleship "Essex."  In the Heart of the Sea was based on the 2000 non-fiction book by the same name, by Nathaniel Philbrick, which outlines the events behind the sinking of the whaling ship — an event that inspired the world-renowned novel we all know today as Moby Dick. Interestingly, this film educates us in many ways, and gives us the opportunity to learn the history behind the legend of Moby Dick as well as enjoy a visual feast of the story behind Herbert Melville's classic fable. Set in the backdrop of 1820 America, In the Heart of the Sea is enriching and enlightening for those admirers of the novel or others who are curious about its origin.
In the Heart of the Sea astonishes audiences with state of the art visual effects and superb CGI ocean and whale action sequences. Frame by frame, the film takes you on a perilous but exhilarating journey through the high seas and allows you to experience the tragedies and triumphs of the voyage. The film rivets and astounds on many levels due to its picturesque scenery, adept cinematography and innovative exploration of the myths, legends and brutality hidden in the depths of the sea. The film features mesmerizing ocean, ship and landscape shots, detailed and authentic costume design, ornate 1800s sets, along with enthralling storytelling. This is definitely a movie meant for the big screen.
The film's director, Ron Howard, succeeds at reinventing the real-life events of the whaleship Essex in a way that gives audiences the chance to gain a new perspective on Melville's iconic novel from which the events in this film was inspired.
Chris Hemsworth is convincing as the New England Essex sailor, Owen Chase, and as the story progresses we identify and connect with his destitutions and feelings of uncertainty while voyaging through the uncharted seas. When we are first introduced to Chase and all of the characters, their sense of adventure is eclipsed by their confident and somewhat arrogant attitudes. As the story moves on, the characters endure atrocities and are humbled into submission by a sense of hopelessness and desperation. Hemsworth's portrayal stands out as he struggles through a tormenting turn of events.
In the Heart of the Sea emphasizes the darker side of human nature and psychology, conveying how human beings never were — and can never be — a match for the ravages and rages of Mother Nature.