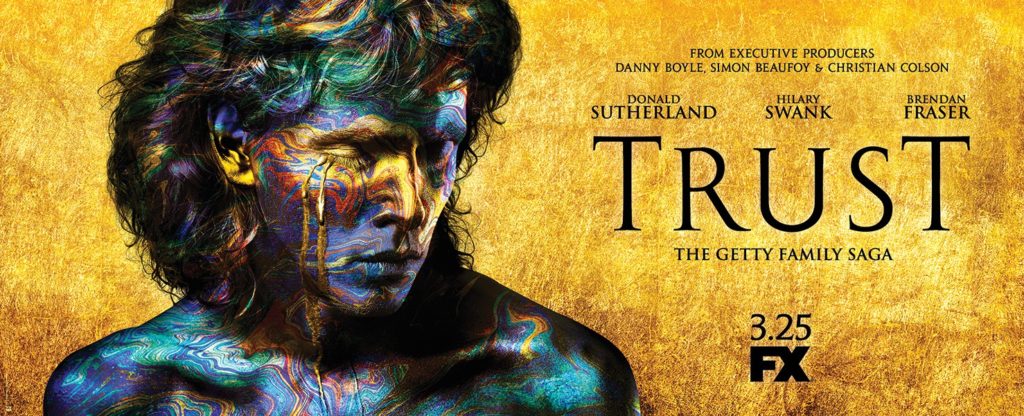 Throughout its 10-episode span, Trust intricately explores the interchangeable themes of crime, greed and corruption. By combining various aspects of historical drama and ingenious humor, the series boasts a star-studded cast of complex characters. As well, the cinematography and set pieces significantly enhance the show's sumptuous scenery.
Inspired by true events, the series centers on the 1973 kidnapping of John Paul Getty III (played by actor Harris Dickenson) during his time in Rome, living a bohemian lifestyle. Getty III does this as a means to distance himself from his stepfather's brutal treatment as well as the influence of his grandfather, Sir John Paul, (Donald Sutherland) the patriarch of the Getty family. The story also highlights his grandfather's refusal to fulfill the mafia's ransom due to his pompous nature, and contemptuous greed. We then come to learn of the numerous pitfalls that young Paul's mother Gail (portrayed by Hillary Swank), endures to rescue her son from captivity.
Ridley Scott's movie All the Money in the World starring Michelle Williams, Mark Wahlberg and Christopher Plummer, depicted Getty III's capturing but in a more condensed fashion. Despite airing within the same twelve-month period as the 2017 film, the miniseries takes the same story and fleshes it out in a way that allows for more in-depth character development and innovative storyline. In addition, it offers audiences further context regarding the nature and history behind Getty III's kidnapping.
Showrunners Danny Boyle and Simon Beaufoy, who previously collaborated on Slumdog Millionaire and 127 hours, successfully present an elaborate series that genuinely reimagines the Getty's rise and fall from grace from the characters' point of view. The creators take their time to develop a thought-provoking take on one of history's most infamous incidents ever to coincide with the turmoil of the Watergate Scandal. The different shots of the Roman buildings and the coliseum contribute to the picturesque background within the setting. Abstract imagery is also used frequently to visually interpret J. Paul's mansion. As beautiful as the estate may appear on the outside, we come to learn that Grandfather Getty's boundless wealth has poisoned his mind, within. In turn, this eventually leads him to obsessive self-preoccupation. This outwardly signifies to the viewer, the concept of the American Dream as something that is illusory in nature, as opposed to gratifying.
Brendan Fraser is the highlight of this show. He excels brilliantly in his portrayal as Sir John Paul Getty's former Head of Security, Fletcher Chase. Chase's character offers up a sense of wittiness to the story's gritty mood, as he breaks the fourth wall. In doing so, he perceptively describes in extensive detail, the events which led to the detrimental outcomes of J. Paul's life on both an economical and personal level. We are able to understand his perspective of the situation through his comically crafted monologues.  His persuasive assertions pave the way for Chase to evolve into a more three-dimensional character. He is, in essence, a caricature that serves as comic relief to the story. His unassuming western wardrobe, southern drawl and satirical sense of humor, cleverly piece together a convincing character. Considering that Fraser has left the spotlight for quite some time, it is truly remarkable to have him finally return after all these years in a role that is so multi-faceted in nature–one that Fraser is able to effortlessly portray, persistently maintaining a captivating and compelling presence.