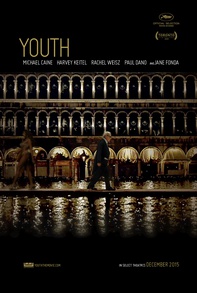 Six-time Oscar winning British icon Michael Caine delivers an exquisite performance in this eloquent story filled with elaborate sets, lighting, drool-worthy cinematography along with moving and alluring dialogue.
Directed by Paolo Sorrentino, the film Youth is about a famous, retired orchestra conductor and composer named Fred Ballinger (Michael Caine) who goes on a holiday to the Swiss Alps with his daughter Lena (Rachel Weisz). His best friend Mick Boyle (Harvey Keitel), a film director, is also in residence at the spa, working on a script for his next project.
During Fred's stay, he receives an invitation from Queen Elizabeth II to conduct an orchestra performance at Prince Phillip's birthday.
As always, Michael Caine triumphs in the leading role; his portrayal of Fred Ballinger is touching and utterly believable. We are truly convinced of his demeanour and personality as the nostalgic orchestra conductor, who constantly reminisces about the glory days of his past. This rich and layered characterization is expressed through Caine's subtle, often wry facial expressions, body language, and variations in his tone of voice. All of these nuances contribute to his intense yet charming performance.
At other times his character seems withholding and insensitive. For example, in one scene, he discusses his daughter's marital issues with her, displaying empathy coupled with slight insensitivity.
Perhaps it is just the silent recognition of his lost youth. As the story unravels, his character begins to express regret for his mistakes and he struggles with facing his own mortality.
Paul Dano successfully engages the audience in his performance as sci-fi movie star, Jimmy Tree, an actor who is having difficulties with realizing fame as a famous robot called Mr. Q. He seems wistful about pursuing his dreams to be an actor who is taken more seriously and exhibits these feelings in a scene where he converses with Mick about his choice of movie roles. I believe that this performance gave Paul Dano the opportunity to grow, mature and come out of his shell as an actor. For the most part, in Dano's previous movie roles, he has been typecast as a delicate, timid or quirky character who is sensitive and introverted. His surprising performance as Jimmy Tree in Youth felt like a complete departure from his earlier work and represented a fresh, more extroverted side to Dano and his acting.
Harvey Keitel, Rachel Weisz and Jane Fonda, add to the mood and atmosphere throughout the progression of the story and the formulation and discoveries of the various characters. Jane Fonda, despite her brief cameo in the film, was very intriguing. She delivers a great performance as the snobbish, insensitive bygone beauty, Brenda Morel. At this point, Fonda takes the story into a whole new direction. When she meets with Mick (Keitel) to discuss his upcoming project, her every expression and tone of voice reflects her condescending and self-centered personality as she harshly criticizes his most recent work. Fonda's role in the movie, reminds us of how looks can be deceiving. On the outside, she may appear to be a throw-back to the old glamour days of Hollywood but on the inside, she is truly a cold-hearted woman.
Director Paolo Sorrentino, makes an effort to interpret each scene in a very genuine fashion. He thoroughly succeeds at delivering this through in-depth storytelling and dark humour combined with drama and clever, witty and complex characters. It cannot be denied that Sorrentino's direction is similar in style to Italian director Frederico Fellini. One example of this is when Caine's character Fred, sits on a tree stump in a field, and imagines conducting the clanging cowbells on the necks of a herd of cattle. This concept is further demonstrated in a scene where Harvey Keitel's character Mick Boyle, is reimagining all of the actresses that he worked with in his early days of filmmaking, while daydreaming on a Swiss hillside.
This romantic, illusory approach shines a light on artistic, modern-day cinema in that it attracts a new generation of people who are admirers of this genre and paves the way for more inspirational filmmakers of a new era.
Youth is a mesmerizing and smoothly paced movie that looks at the concept of story structure and cinema in a very innovative way. I would highly recommend this movie to anyone who appreciates artistic fantasy or who studies Fellini.